Hits: 1611
I found a SIMPLE way to view html page source using an Android Device.  Before the URL simply type type view-source: and press Enter or Go. Now when I design sites using client's input I can see the code that makes the page look the way it looks!!!!
Android phone running Chrome

Open the Google Chrome Internet browser on your phone.
Open the web page whose source code you'd like to view.
Tap once in the address bar and then move your cursor to the front of the URL.
Type view-source: and press Enter or Go.

Tip: For example, to view the code for our home page you would type view-source:http://www.computerhope.com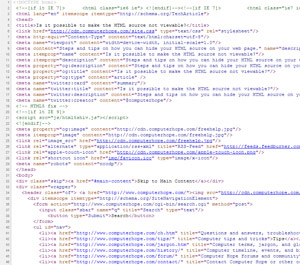 Steps on how to view the source code of any web page on the Internet.